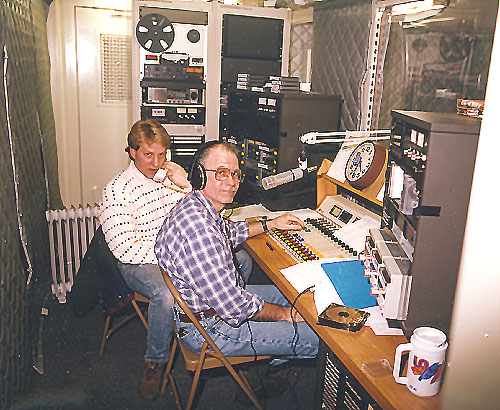 KTRK were the call letters used by an Army Broadcast Service (ABS) station during a four day test at Ft. Meade, Maryland. The station was to be deployed to Bosnia to inform and entertain the troops on duty there. The station commenced testing on 5 February 1996, on 1670 kHz, with a power output of 5 kilowatts.
On Tuesday, the 6th, Paul WA3VJB, while scanning the new expanded AM band, noticed a strong station playing rock and roll on 1670 kHz. At first he thought it was a pirate station. Later, the announcer solicited reception reports and gave an address and phone number. Paul quickly called and spoke to the station general manager, Big Don Brown. He got the lowdown on the station and also found out that they were short on personnel to handle the on-air duties. After relaying the existence of the station to Steve, WB3HUZ, the seeds were sown for a unique radio experience.
Steve knew that fellow Maryland AMer, Fred, KC4MOP, had worked as a DJ in the past and was itching to do it again. So, after a few phone calls, Fred was ready to do a four hour stint on KTRK. On Wednesday, the 7th, at 2 PM local time, Fred open the channel on the mixing board for the RE20 microphone and spoke, "This is KTRK, broadcasting fromFt. Meade, Maryland." The fun had begun!
Steve, WB3HUZ, was along to enjoy the ride and document the occasion photographically. Even though daytime propagation conditions existed till about 4PM, the phones started ringing. As shown in the photo above, Steve handled the phones and Fred spun the disks (compact disks, that is). By the time the two signed off at 6PM, over 50 calls were logged and reception reports from up and down the east coast, Canada, and as far west as California were received. During the "broadcast" Paul, WA3VJB and Ken, N3EAR joined in the fun. All agreed, the experience was probably a once in a lifetime opportunity and felt lucky to be in the right place at the right time.
See More of KTRK
Outside the Studio | Transmitters | Tower | ARRL Letter